Profile of the company
CH-PRINT, a.s. (joint – stock company) was established 01.01.1998 by separation of printed board division from parent company CHIRANA-PREMA a.s. Our new company was taken over from parent company production programme in the field of design and manufacturing of printed board and in the field of screen printing. We have over twenty year of experience in the main manufacturing activity - design and manufacturing of printed board. This fact allowed succesful start and establish position on the Slovak market.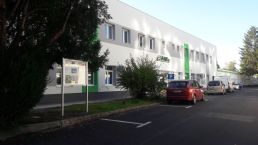 The tradition in the field of manufacturing printed board was founded in latest 70th , when Chirana started production of single-sided printed board. We have enlarged this programme by production of double-sided printed board with plated-throgh hole in 1982. Due to application of printed circuit in the medical equipment, which is exported and applied all around the world, in different ambient conditions, our philosophy was to build high-tech production line.
We realised full modernization and reconstruction of plant in 1992 and 1993. Building and production areas were reconstructed, technology, including new automatic galvanic line, was modernized. We installed here modern technological process of direct plated-throgh hole without using of chemical copper in 1993. We were using this process as the first company in East- and Middle-Europe and have achieved significant advance in the field of quality of direct plated-throgh hole. We eliminated formaldehyde from technology process and significantly reduced another injurious matter. That´s mean our importrant contribution towards improvement of environment.
The present maximum one-year production capacity of company is 4500 m2 of double-sided printed board and 7000 m2 of single-sided printed board. We able to delivery already 15 days after obtaining and approval of complete documentation. Limited printed board numbers it is possible to delivery in the shorter terms.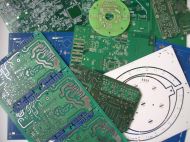 CH-PRINT produce single and double sided printed board normally from metal-clad base materials of category FR4 (supplier LAMITEC CZECH s.r.o. Semtín, Czech republic and ISOLA, Deutschland). For producing of single-sided printed board is possible to use materials of category FR3, FR2 and CEM1 according to customer requirements.
Nowadays technical and technological equipment of company offers possibility to use data of all CAD systems. Data can be delivered on different data medium including data transmission by modem or internet. From obtained data we made complex technical and technological documentation, includind exposing of film artwork master on our raster photoplotter. Data are normally processed as format gerber for conductive pattern and SIEB&MEYER or EXCELLON for drilling and milling machines.
One of the company essencial priority program is high quality of production. We built the company quality system in compliance with standards of rank ISO 9001:2001 for satisfaction of our customers with production quality.